Requirements to Become a Pharmacy Technician in Virginia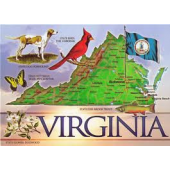 According to demographic employment information recently collected by the United States Bureau of Labor Statistics, roughly 8,540 people in Virginia are employed full time as pharmacy technicians.  Pharmacy technicians are trained healthcare professionals who assist licensed local pharmacists with legally regulated activities such as mixing, reconstituting, packaging and labeling prescription medications. 
Nevertheless, as of June 1st, 2012, not all pharmacy technicians employed at Virginia's nearly fourteen hundred hospital and retail pharmacies hold valid, up-to-date, State Board certification.  Many are pharmacy technicians in training, fulfilling an internship requirement.  Others are pharmacy interns, or experienced pharmacy technicians overdue for their annual registration renewal.  Although pharmacists generally insist on licensed technicians, guidelines and regulations pertaining to their employment may vary from state to state. 
Virginia State Regulations for Pharmacy Technicians
Virginia is one of the fourteen U.S. states that mandates state Board-certified licensing for all of its locally employed pharmacy technicians.  Pharmacy technicians who wish to work at Virginia pharmacies are required to formally register with the Virginia Board of Pharmacy. 
To qualify for state licensing, registrants must submit a fully completed application, and must also provide proof of having completed a state Board-approved professional training program.  Maintaining valid state licensing also requires no less than five hours of continuing education each year.  Also required is a passing score on either the Pharmacy Technician Certification Board (PTCB) exam or the nationally recognized Exam for Certified Pharmacy Technicians (ExCPT).  Registration renewal is required annually, along with a twenty-five dollar renewal fee.  All fees for registration and license renewal are the applicant's responsibility. 
According to Virginia state law, the maximum allowable ratio of pharmacy technicians to licensed pharmacists is four to one (4:1).  At least two of the four must hold current, up-to-date licenses.
Virginia Training Programs for Pharmacy Technicians Include:
Residents of the state of Virginia who are interested in pursuing local employment as pharmacy technicians can often acquire skills and professional certificates by attending certain accredited local colleges.  Schools in Virginia that offer Board-certified certificate programs for pharmacy technicians include Everest College in Chesapeake and University of Phoenix, which features convenient facilities in Fairfax, Reston, Richmond and Virginia Beach.
On the other hand, just as many aspiring Virginia pharmacy technicians prefer the convenience of online educational options.  Popular accredited online colleges for pharmacy technicians include Lincoln Technical Institute, Rasmussen College, Ayers Career College, YTI Institute and South Texas Vocational Technical Institute, to name only a few.
36277 reads