Requirements to Become a Pharmacy Technician in West Virginia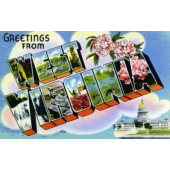 As of June 1st, 2012, the state of West Virginia contains approximately five hundred institutional and retail pharmacies.  Altogether, they support roughly 3,160 full time professional pharmacy technicians, according to demographic employment data recently released by the U.S. Bureau of Labor Statistics.  However, less than half of West Virginia's pharmacy technicians are technically licensed and state Board certified.  This is not to say that local licensed pharmacists hire many uncertified technicians.  Rather, many experienced and skilled pharmacy technicians are awaiting licensing or renewal.  Some are interns fulfilling Board-approved training requirements.  In any case, Guidelines and regulations pertaining to pharmacy technicians will vary from state to state. 
West Virginia State Regulations for Pharmacy Technicians
West Virginia is not one of the fourteen U.S. states that require its pharmacy technicians to be licensed and certified with the state Board of Pharmacy.  However, all West Virginia pharmacy technicians must register with the Board.  Applicants and trainees can be under the age of eighteen and not yet finished with high school.  However, to be fully registered as a pharmacy technician in West Virginia, one must be at least eighteen years old and have completed a high school level of education or its academic equivalent.
Registrants must submit a fully competed application, along with a twenty-five dollar registration fee made payable to the West Virginia Board of Pharmacy.  Registrations must be renewed annually, no later than July 1st of each year.  Applicants must pay a renewal fee of thirty dollars.  All fees associated with registration and renewal are the applicant's responsibility. 
West Virginia pharmacy technicians must also complete a Board-approved training program administered partly by the pharmacist in charge.  Continuing education is not required to maintain local employment. 
West Virginia Training Programs for Pharmacy Technicians Include:
Residents of the state of West Virginia who are interested in pursuing local employment as pharmacy technicians will often learn the skills by attending accredited local colleges.  Schools in and around West Virginia that offer state Board-approved degree programs for pharmacy technicians include National College, which features area locations in Parkersburg, West Virginia, as well as in Charlottesville, Danville, Martinsville, Harrisonburg, Richmond and Roanoke,Virginia.
At the same rate, many aspiring West Virginia pharmacy technicians acquire skills online.  Popular accredited online colleges for pharmacy technicians include BioHealth College, Ayers Career College, Milwaukee Career College, Harris School of Business and Fortis Institute, to name only a few.
37002 reads