Pharmacy Technician Employment & Salary Trends, and Career Opportunities in Pennsylvania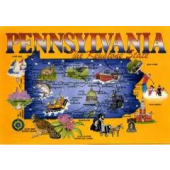 Overview
Pennsylvania is home to nearly 14,000 salaried pharmacy technicians. This means, Pennsylvania's impressive population of pharmacy technicians account for more than 4 percent of the nation's 334,400 salaried technicians. Aspiring pharmacy technicians choose The Keystone State for:
• The opportunity to work at more than 20 top-ranking facilities such as The Hospital of the University of Pennsylvania, Thomas Jefferson University Hospital, Temple University Hospital, Hahnemann University Hospital, and Pennsylvania Hospital
• Access to 162 other outstanding hospitals, which make up the fifth largest collection of health care facilities in the country
• Access to hundreds of quality health care and pharmacy technician training programs
• Employment: The Philadelphia metropolitan area has the seventh highest employment level in this occupation among U.S. metro areas.
Employment and Salary Trends for Pennsylvania Pharmacy Technicians
According the Bureau of Labor Statistics (BLS.gov), Pennsylvania is home to 13,840 salaried pharmacy technicians. They average $28,710 per year. In 2006, Pennsylvania-based pharmacy technicians averaged $23,410, so salaries have increased by $800+ each year. Across the nation, pharmacy technicians now average around $28,940 per year (median), with the top ten percent averaging $41,880 and the bottom ten percent earning $20,310 per year.
Although salaries for pharmacy technicians are on the rise and the Philadelphia metro area has one of the highest populations of techs in the U.S., employment levels overall rose between 2002 and 2008, but dropped between 2008 and 2012. In 2002, the state was home to 9,710 pharmacy technicians. In 2006, the number increased to 14,390 and to 14,990 in 2008. Between 2008 and 2012, the state lost 1,150 jobs.
Across the nation, the pharmacy technician industry will enjoy a significant amount of employment growth between now and 2020. The industry expects to add 108,300 new jobs over the next 8 years, so employment overall is expected to grow by an impressive 32 percent.
Pharmacy Technician Career Opportunities in Pennsylvania
While the top employers for pharmacy technicians are large chain pharmacies and health & personal care stores, the Bureau of Labor Statistics reports that aspiring pharmacy technicians can also find work at computer systems design firms, scientific and technical consulting services, in government departments, at hospitals and outpatient care centers, and at independent pharmacies. Clinics, mom and pop pharmacies, grocery stores, department stores, electronic shopping and mail-order houses, and academic institutions are other options.
Like other states, Pennsylvania is home to a significant number of large chain pharmacies. However, Pennsylvania is historic, progressive, and diverse, so you will also find plenty of interesting independent drug stores such as Olde Philly Pharmacy and Bluegrass Pharmacy, unique retail venues, top health and medical facilities, and a variety of personal care stores. Some of Pennsylvania's biggest pharmacy and health and personal care chains are:
CVS
Kmart Pharmacy
Rite Aid Pharmacy
Savon Pharmacy
Target Pharmacy
Walgreens
Walmart
Just a few of the Pennsylvania's largest hospitals/hospital systems include:
Albert Einstein Medical Center
Chester County Hospital
Cooper University Hospital
Delaware county Memorial Hospital
Hahnemann University Hospital
Lehigh Valley Hospital-Cedar Crest
Penn Presbyterian Medical Center
Pennsylvania Hospital
Temple University Hospital
The Hospital of the University of Pennsylvania
Thomas Jefferson University Hospital
University of Pittsburgh Medical Center-Presbyterian
Schools Offering Pharmacy Technician Training Programs Include:
40064 reads