Utah Pharmacy Technician Training Programs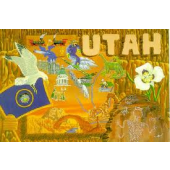 The State of Utah Division of Occupational and Professional Licensing (DOPL) has several requirements for pharmacy technicians wishing to operate in the state. Aspiring pharmacy tecnicians must meet specific certification, education, training, and licensure requirements prior to becoming employed as a pharmay technician.
DOPL offers the following information regarding certification, education, and licensure:
Certification Requirements
National Certification: All applicants must have passed the examination for certification of pharmacy technician with the Pharmacy Technician Certification Board (PTCB)or the
Examination for the Certification of Pharmacy Technicians (ExCPT) and must submit a copy of a current national certification.
For information concerning the National Pharmacy Technician Certification Examination, contact the Pharmacy Technician Certification Board at (800) 363-8012 or at www.ptcb.net. For information concerning the Exam for the Certification of the Pharmacy Technician (ExCPT) contact (866) 391-9188 or at www.nationaltechexam.org
Education and Training Requirements
To be eligible for licensure, you must complete a Utah Board approved curriculum of education that includes a minimum of 180 hours of practical experience in a pharmacy supervised by a licensed pharmacist, covering at least the following topics:
-Legal aspects of pharmacy practice such as laws and rules governing practice.
-Hygiene and aseptic technique.
-Terminology and symbols.
-Pharmaceutical calculations.
-Identification of drugs by trade and generic names, and therapeutic classifications.
-Filling of orders and prescriptions including packaging and labeling.
-Ordering, restocking, and maintaining drug inventory.
-Computer applications in the pharmacy.
-Over the counter products, including, but not limited to, cough and cold, nutritional,
analgesics, allergy, diabetic, first aid, ophthalmic, family planning, foot, feminine
hygiene, and gastrointestinal preparations.
Your education and training must have been completed in either an approved licensed Utah pharmacy under the supervision of a licensed pharmacist OR in an approved, formal educational setting OR by working 1,000 hours in the past year as a licensed pharmacy technician in another state that requires licensure for pharmacy technicians.
 Application for Licensure
In addition to submitting a completed application, complete the following:
1. If you completed on-the-job training in Utah, submit the "Affidavit of Supervising Pharmacist Responsible for Practical Training Program" form (attached to this application) completed by the licensed pharmacist responsible for your on-the-job education and training program AND a "Pharmacy Technician Training Hours Log" (attached to this application). (See "Additional Important Information" below.)
2. If you completed a formal training program, submit official transcripts from your formal training program AND the "Affidavit of the Official Representative of the Formal Education Program" form (attached to this application) completed by the official representative of your formal education and training program AND the Pharmacy Technician hours log. (See "Additional Important Information" below.)
NOTE: Have the school send the transcript directly to DOPL. You may also have the school send the transcript to you for inclusion with your application so long as it is in a sealed envelope, bearing the school's stamp/seal on the envelope flap.
3. If you have a license in another state and have worked 1,000 hours or more in that state, within the past two years, use the "Request for Verification of License" form (attached to this application) to obtain verification of licensure from that state. Request that the verifying state complete the form and mail it directly to DOPL.
Additionally, submit employment records or a letter from your employer on official letterhead stating that you meet the employment criteria outlined above.
4. Submit a current copy of your national certificate issued by the Pharmacy Technician
Certification Board (PTCB) or the Exam for Certification of Pharmacy Technician (ExCPT) to document your passing the national certification exam for pharmacy technicians.
5. Submit a completed take-home "Pharmacy Technician Law and Rule Examination" (attached to this application).
6. Bring your completed application to DOPL's offices (160 E. 300 S., Main Lobby, Salt Lake City) to complete electronic fingerprinting using DOPL's Identix equipment.
OR
Submit three applicant fingerprint cards (Form FD-258: white with blue lines) to be used by DOPL for a search through the files of the Bureau of Criminal Identification (BCI) and the Federal Bureau of Investigation (FBI). See "Additional Important Information."
7. Submit a $100.00 non-refundable application-processing fee, made payable to "DOPL." This fee includes a $60 application fee for a pharmacy technician license, a $20 surcharge for a BCI fingerprint file search, and a $20 surcharge for a FBI fingerprint file search.
Utah, by far, has some of the most elaborate requirements and procedures, but if you have completed a training program at an an accredited college, the process will be much easier. Not only this, but you can expect enjoy choice employment opportunities and credentials that you can carry anywhere.
The accredited schools listed below offer top-tier pharmacy technician training programs.
Utah Schools with Pharmacy Technician Training Programs:
Pharmacy Technician Programs - Major Utah Colleges and Universities
Utah State University College of Eastern Utah - Price
Pharmacy Technician Programs – Other Utah Colleges
Broadview University - Layton, Orem, Salt Lake City, and West Jordan
Davis Applied Technology College - Kaysville
Eagle Gate College – Layton, Murray, and Salt Lake City
Mountainland Applied Technology College - Orem
Provo College - Provo
Snow College - Ephraim
Uintah Basin Applied Technology College - Roosevelt
40158 reads