Requirements to Become a Pharmacy Technician in Nevada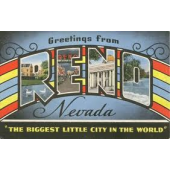 As of June 1st, 2012, the state of Nevada features more than four hundred chain, independent and hospital pharmacies.  Altogether, they employ roughly 2,370 full time professional pharmacy technicians, according data recently released by the United States Bureau of Labor Statistics.  However, less than two thousand Nevada residents are currently registered and licensed by the state Board of Pharmacy.  This may seem odd at first glance, as licensed pharmacists prefer to work with licensed technicians.  However, many working pharmacy technicians are fulfilling a training requirement, or are in the process of renewing their licenses.  Regulations and guidelines regarding the practices of pharmacy technicians vary from state to state. 
Nevada State Regulations for Pharmacy Technicians
Board certification is not a requirement for employment as a pharmacy technician in the state of Nevada.  However, as mentioned, pharmacists unanimously prefer licensed help, as the activities of unlicensed assistants are restricted by certain federal laws pertaining to the handling of prescriptions and other controlled substances.  Federal law also indicates that the maximum allowable ratio of pharmacy technicians to pharmacists is two to one (2:1).  All who wish to apply for licensing as pharmacy technicians in the state of Nevada have to register with the state's Pharmacy Technician Certification Board (PTCB).  Registrants must be at least eighteen years of age with at least a high school (or equivalent) education and no criminal record or drug abuse history.  Registration requires the submission of a completed application form along with a forty dollar registration fee.  Applicants must also complete a Board approved training program.  Registrations must be renewed every two years, no later than October 31st of even numbered years.  Twelve hours of continuing education is required for renewal.  This includes one hour of studying pharmacy law. 
Nevada Training Programs for Pharmacy Technicians Include:
Residents of the state of Nevada who are interested in working locally as pharmacy technicians can often acquire professional skills by attending accredited local colleges.  Prominent Nevada colleges with certificate programs for pharmacy technicians include High Tech Institute in Las Vegas, Career College of Northern Nevada in Reno and University of Phoenix, featuring convenient facilities in Reno, Las Vegas, Henderson and Nellis Air Force Base.  Some aspiring pharmacy technicians acquire skills online.  Popular accredited online colleges for pharmacy technicians include Landsdale School of Business, Charter College, Omega Institute, U.S. Career Institute and Southern Careers Institute, to name only a few.
32536 reads