Requirements to Become a Pharmacy Technician in Michigan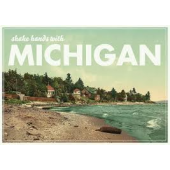 As of June 1st, 2012, the state of Michigan supports more than twelve thousand full time pharmacy technicians at more than two thousand hospital and retail pharmacies located throughout the state.  However, only about sixty percent of Michigan's pharmacy technicians hold up-to-date, Board certified licenses.  This is, in part, because a number of qualified technicians hold recently expired licenses undergoing renewal, while many more are trainees and interns fulfilling their work-related licensing requirements.  Overall, Michigan pharmacists strongly favor licensed (or at least experienced) technicians over unlicensed assistants, mainly due to certain federal and state-specific legal limitations.  Regulations and guidelines pertaining to pharmacy technicians will vary from state to state. 
Michigan State Regulations for Pharmacy Technicians
Michigan is not one of the fourteen states requiring Board certification of its pharmacy technicians.  In fact, the Michigan Board of Pharmacy does not regulate the activities of pharmacy technicians.  Their on-the-job tasks are decided by the pharmacists in charge, working in accordance with federal laws.  Licensing is completely voluntary for Michigan pharmacy technicians, and registration with the Board is not required.  However, as mentioned, Board certified pharmacy technicians are much more marketable and earn higher starting salaries (on average) than unlicensed pharmaceutical assistants, whose tasks may be legally limited to inventory and clerical support.  Most pharmacy technicians licensed to practice in Michigan have undergone professional training, completed an internship and earned a passing grade on the nationally accredited Exam for Certified Pharmacy Technicians (ExCPT).  Continuing education is typically required to maintain certification.  There is currently no maximum allowable ratio of pharmacy technicians to pharmacists in the state of Michigan. 
Michigan Training Programs for Pharmacy Technicians Include:
Michigan residents with an interest in pursuing state local employment as pharmaceutical technicians often obtain professional skills and certificates at certain accredited local colleges.  Michigan colleges with licensing programs available to pharmacy technicians include Everest Institute, with locations in Detroit and Kalamazoo and University of Phoenix, featuring facilities in Ann Arbor, Clinton Township, East Lansing, Grand Rapids, Livonia, Portage, Southfield and Troy. On the other hand, many pharmacy technicians in Michigan are fully trained on the job.  Other local educational options for aspiring pharmacy technicians include acquiring skills via online degree programs.  Popular accredited online colleges with nationally accredited training for pharmacy technicians include Institute of Technology, YTI Institute, Harris School of Business, Charter College and Argosy University, to name only a few.
36543 reads